THE CITY OF KINGS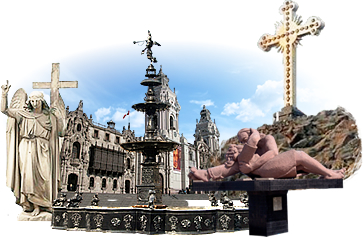 Lima is a multifaceted city, and we guarantee that if you spend some time there with us, you will get to know them all. Start in the Colonial sector boasting beautiful architecture, in particular the Main Square upon which sits the Government Palace, the City Hall, the Cathedral, and the Archbishop's Palace. Not far from there is the Santo Domingo Convent, a 16th century structure that is certainly one of the most important religious and artistic centers in the city, worth stopping by for a visit. After some time in the city center, head off towards more modern districts, like San Isidro, the city's financial hub, yet still packed with history with attractions like the Huaca Pucllana and Huallmarca archeological sites that were built long before the Incas rose to power. Another important district is Miraflores which looks to the Pacific Ocean. Stroll along the cliffs that overlook the sea and do some shopping at the Larcomar Mall. The entire area is quite charming. If culture is what you are looking for then you visit the Larco Museum.
Beaches, architecture, archeology, gastronomy. "Lima has it all."
AGOTUR lima welcomes you.